Are you looking for beaches, the crystal clear water with a history all together makes the Andamans a perfect choice.
Whether you want to enjoy backpack, enjoy your vacations, treks, island backwaters and adventurous experience of deep sea diving all you will find in Andamans. Mix culture, diversity can be seen in port Blair town to the white pristine beaches of Neil along with the Havelock islands, not to miss the limestone caves of diglipur,not to be wrongly said Andamans offer something for everyone who visits it, there is something special for every tourist!
Don't leave Andamans before you have seen:
See, not to be miss             
Port Blair
A diverse town with multicultural which offer a glimpse of local traditions, if you want to escape the hustle, bustle of city life then a perfect choice, has its own importance in colonial history port Blair is perfect for you like a boot camp to stay in Andamans.
Havelock Island
Famous for its clear crystal blue water with white sand beaches and along the beach mahua tree can be found to be lined up all together gave Havelock island a picture-perfect look….
Fascinating backwater with long treks, if you are looking for relaxing cum scenic beauty then Havelock promise you that escape in an adventure with scenic beauty…
Neil island
Love coral reefs, the island welcome you to coral reefs , the calmness on beach along with rich wildlife all could be found at Neil island, unlike other island in Andamans ,needless to say Neil island offers an escape from the crowd, which you would prefer .you can still  find some virgin beaches, not a tuff task to find one around for evening date with your lover
Or nature itself…
Limestone caves, north Andamans
In the northern part of Andamans limestone caves are located, are something which cannot be missed by you. Mesmerizing experience, walking down through tribal reserves. If you are lucky you can also catch glimpse of sunbathing crocodile, which are perfectly camouflaged in mangrove forests.
Activities to do:
Scuba diving and snorkelling
Have you experienced snorkelling before? if yes then you know there is nothing better than snorkelling. The experience in clear turquoise water, exploration of vibrant aquatic life, wow amazing experience to have.
Coral reefs, at Andamans, offers you some of the widest experience to aquatic flora and fauna.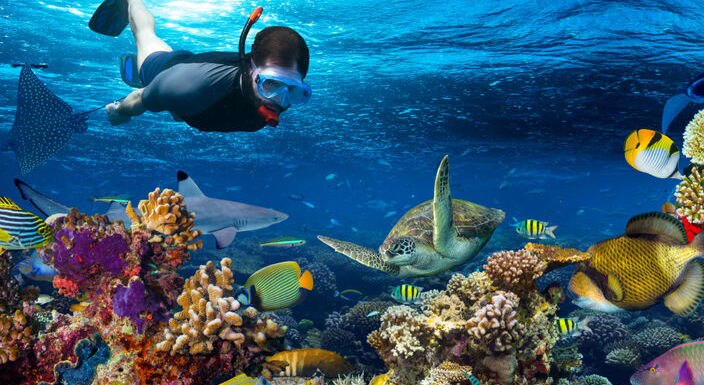 Scuba diving is another good option to get close and have personal experience with corals for which the beaches are famous for…
 Cellular Jail, memorial
Famous with name Kala pani, the taboo still haunts the walls of the jail, the guilty person who was sentenced exile were traumatized by their journey to prison, there was a belief that they would lose their caste (varna) if they cross the Kala pani.During the era of independence struggle the British use this prison to exile political prisoner and freedom fighter.
Located at Port Blair, the memorial is open for tourist visit from Tuesday to Sunday. The night show of sound and light is not being missed by anyone.
Trekking to Madhu ban:
It is one of the best trekking routes, from mount Harriet to Madhu ban you will witness a huge tourist crowd. The exotic fauna with the lush green forest in the region makes the region to be loved by trekking enthusiasts if you wish you can start your trek with Chatham harbour which is located at ferry side.
You can take a few minutes ferry ride to reach any of the trek point nearby. Around 45 trips on an average ferry from these towns make.
What to eat?
Seafood
Seafood is a speciality of the region as like the other coastal region the seafood is fingerpicking tasty, should try the seafood at Port Blair.
Try lobster or the seafood platter, you can get fresh fried fish, which are a catch in the morning at almost all the islands.
Local fare: do check for samosas these are delicious quick snacks to have, want some affordable but different cousine then many tiny local restaurants gives you an option of thalis at reasonable prices. Even Italian, Thai and continental cuisine can be found at many local joints…
But when to go?
Yes, the time plays a crucial role in making every trip a memorable or disaster, so perfect timing is very important.
Oct-may: you might think winters! but winters aren't chilly the weather is pleasant, rather it is the best time if you want to enjoy water sports and other activities of water…
January : looking for culture and tradition to witness in Andamans,visit in January, a lot of fairs, festivals are enough to keep you busy during your trip.island tourism festival, a 14-day long festival which showcase various traditions which are been followed by tribals.
The Subhash mela which is being organised on the occasion of birth anniversary of Subhash Chandra bose. the block meal is also organised which showcase the diversity in culture and rural life of locals people in these islands of Andamans.
May-October : heavy rains are a witness throughout the season of monsoon, but that cannot stop you and Andamans have its own beauty in the rains!
How to reach there?
By air: many prefer to take flight from Chennai or Kolkata, most of them are operated by SpiceJet and go air.
By ship: reaching port Blair  from Vishakhapatnam, Kolkata and Chennai is about 50-60 hours journey,
Reaching Havelock" about 38 km away from port Blair, Havelock offers a luxurious camping facility,2-3 ferries are operated between Havelock and port Blair.
Getting around:
Private jeeps & minivans: a cab can a bit costly too take, it might cost you somewhat around 600 per 35 kilometers,you would have to spend 10,000 for a trip to diglipur from port Blair.scooters and motorbikes are also available for hire from port Blair.
Bus: Andamans is well connected with roads , bridges and crossings of a ferry, bus can be taken from port Blair to diglipur ,rangat in the north .
Wandoor in the south.
Boat:as most of the trip require you to travel by boat ,it seems to be a good option to choose, a romantic trip on the backwater.
Most important things to be packed:
Light cotton clothes,umbrella,sunscreen(lot of),basic medicine,beachwear.
Stunning rainforest ,beach with clear water with its own history all together can be found at the Andamans islands.
Do share it along with your friends and family ,tell us about your experience you had while travelling to the Andamans .
Your views are important to us ,we will be waiting for your valuable comments..