The Kashmiri does not care about whose flag to follow, as long Kashmiri get to row shikara, sheep, apples . What is an India , what is a Pakistan
every year thousands of tourist, people from India and abroad visit Jammu Kashmir valley in summer to enjoy their vacation, honeymoon trips and many more vacations.
But most important what to do during the Jammu trip? what is the best attraction which is not to be missed?
Tourist places are all about top attraction and things not to be miss in Jammu visit, here you will find answers to your question which revolve around what I should do, fun things not to be a miss on a visit to Jammu and Kashmir trip.
Shikara Ride
Shikara ride top the list of to-do list, most recommended activity for any buddy who visits Jammu , Kashmir valley.what are shikara ?
these are gondola type light boats, which can be easily found at dal lake.during the ride of shikara in Kashmir, chirping of birds, snow-capped peak all together creates a memory which you would not wish to be forgotten .you can even shop on the floating shops, buy eatables during the ride, floating market.
Some best lakes for shikara ride are dal lake and Nagin lake, you can visit here throughout the day.
Want to do something different, then stay in the houseboat
Many luxury hotels and resorts are offered in Jammu, but something different is offered by Jammu and Kashmir valley, you can enjoy Kashmiri houseboats, designed in such a way to provide you with a luxury bedroom,lounge and dining rooms with facing snow-covered peaks, with the rooftops to make your evening a leisurely one. just one thing unlike boats in Kerala these do not travel these are moored on the lake.
Explore gardens
Heaven on earth, Jammu Kashmir is blessed with the natural beauty, the verdant gardens, Mughal gardens are proof of this, build in the Charbagh style architecture, the concept came from the valleys beautiful lais paths fountains and blossoms are something not to be miss in Jammu Kashmir.
Walk around to explore more .some of the famous gardens are Nehru garden, tulip garden,pari mahal garden,chasmeshahi garden, Shalimar garden, Nishat garden. From the month of March to October it is the best time to visit here.
Gulmarg, take the gondola ride
Almost 2650m above sea level,  Gulmarg is located at the foothills of mount apharwat. the cable car (gondola)extend up to mount apharwat, giving you access to the vast snow-covered slopes.
 with the cable car lift, Gulmarg is one of the highest cable car serving resort in the world.
The experience cannot be forgotten easily.
Want some ride, experience pony ride in Jammu Kashmir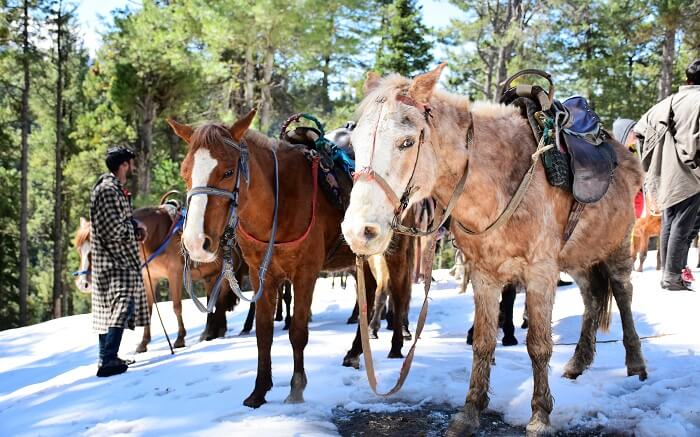 Scenic landscape, attracts all visitors but sometimes walking down all the way can be little bit of tiring, you might feel you cannot carry yourself through heights and distances, in such ponies will take you to these locations.
you can easily find ponies on routes which are not motorable, tourist hire them to carry on trekking activity in the Kashmir valley, but make sure you have water and lunch with you .
The best would be to go from March to October. with the best places to choose from baisaran,sanasar,yousmarg,chandanwari.
Even you can try golfing,
With the world class golf courses in the Kashmir , it ensures you the beautiful landscape .places like Gulmarg and Srinagar are the most preferred location to choose for golf adventure,the mesmerizing locations with greenery surrounding all over (usually with the pine and chinar tree all around).
If you want to escape crowd and relax then these are the places for you.
Best golf places are Srinagar, the royal springs golf club, Gulmarg golf club. best time to visit here is from April to November.
Try out camping in Kashmir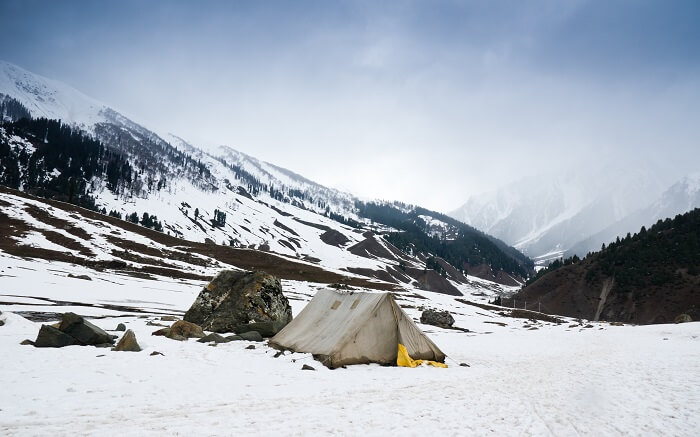 Want to enjoy some fresh air ,cool air of the mountains with some stunning and breathtaking views !,no place better from Kashmir valley!
All comers enjoy the beauty in the valley .trekking at these places and passing by rivers,  surrounding mountains will make your heat full of excitement…away from the chaos of the the city sleeping under the clear sky and views of milky way, just kidding, breathing in pure air.
 best places to choose for camping in Jammu Kashmir are sonamarg, Pahalgam,yousmarg, Gulmarg,arru valley.
Time to get wet !, rafting in Jammu Kashmir a good option
Recently it has been introduced in Kashmir valley the challenges faced is exhilarating ,the icy in the foothills of Himalayas is the birthplace for many rivers in India .the sport of river rafting is popular in all parts of Kashmir but mainly popular in upper part of Kashmir
 where the wild nature of water can be felt and enjoyed white as froths and forms, crashing AGAINST GORGES HALLS AT DEEP GRADIENTS AND ROCKY OUTCROPS. You can choose Lidder river Pahalgam for rafting .best time to go for it is from April to September.
Now it's time for shopping, shop till you drop!
Jammu Kashmir does not disappoint the shoppers, neither tourist places do it serves you with personal experience which you would like to share with others.
There are fare items which you would like to take home with you ,handicrafts lined shops on the streets, with vied option to fit every pocket,Kashmir handicrafts are awesome ,there is craftsmanship which can be seen in every item.
 the carpet in Kashmir made of wool and silk are of so fine quality which you would not easily find anywhere else. with persion design, these are the masterpieces which glorify your home.
Jewellery boxes, mirror frames, carved walnut furniture, stone boxes, silk and woollen shawls.you would love to bring some memory with your self-home for sure.
Top things to shop
Kashmiri shawls, made up of three fibres wool, shahtoosh and pashmina which together make it soft and warm along with handmade embroidery make it a perfect item even if you want to gift it to someone.
Silk carpet: these are famous might be an expensive choice to have but it is a good investment.
Wood carving: beautiful and worth buying
Silk textile: Chinon and crepe de chine are some of the fine quality produced of silk
The paper mache objects
The silverware
Dry fruits, like almonds and walnuts, spices like shah Zira and saffron honey.
Some of the best marketplaces to go are lal chowk, Badshah chowk, residency road, floating vegetable market, polo view and many more.
Walk, explore the market place do some bargains and bring items along with you…
Don't forget to enjoy the local cuisines
Even if you are not foody then also Kashmiri cuisines top the list, there are unique flavour and aroma that makes it hard to resist for anyone, the delicacies of Kashmiri meals with specialities of gusshtab,rogan josh,tabakh maaz, rista.
Wazwan is part and parcel, of celebrations..traditional music and dance make it a life time experience. the food is seved on the plate.
 na na the massive copper plate which they called as tram which usually contains boiled rice with meat chiken,maaz,tabakh daniphul which is places in such a way that it divide the tram into four parts four person take a meal on a single plate.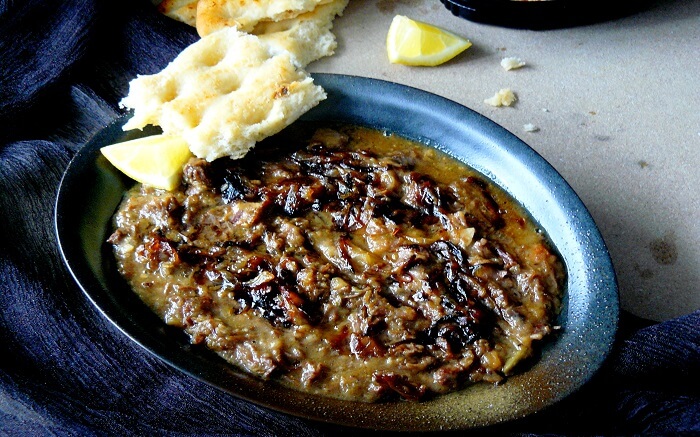 Tea is called as kahwa which are formed in a kettle with spices along with sugar, the style of tea is known worldwide good as per the atmosphere of jammu and Kashmir it helps digestion too.
Feel free to share your thoughts, experiences in the comment section below would love to hear the views of your visit also …
 Tourist places share you the personal experience, with the touch which will land you in place with more clear mindset what to do and where to travel what all things you need to do while travelling…